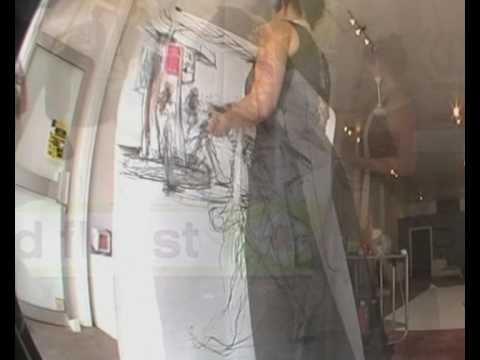 March 2008
Nextart Gallery
Southern Cross University Lismore
Performance:
25th March 2008, 12pm to 5pm
Exhibition:
26th March  dates 2008
Crew:
Musicians – Vasudha and Jem Edwards
Performer – Laticious (Lindsay Welch)
Assisting Artists – James Smyth, James Edwards, James Hopkinson, Joran Stamatakakos, Michelle Dawson.
This investigation took the form of a live process based drawing performance. Works on paper were drawn and collaged and the surfaces were manipulated in response to the physical and narrative contexts of the Nextart Gallery space. Musicians, performers, willing assistants and the peoples of Lismore were invited into the gallery to participate in the event. This performance resulted in an installation and live construction of the images. Investigating the interplay between the actions, the animated movements gestures of the audience and manipulation using a variety of transferable frames to explore the notion of the 'finished' artwork. The result is a symbiotic art happening where the work is spontaneously created and dissembled through a live framing process.
At 12pm the performance began and I drew live on the paper immediately responding to the gallery environment and the facing street and its inhabitants. Taking paper and drawn works onto the streets where cars and people watched, drove over and interacted with the work as it was made. The exhibition was produced and hung by 5pm the same day.
An Interview in situ by ABC Northcoast